Channel management and distribution
InnConnect Crs's innovative technology and functionality leads the way in distribution of  room inventory and rate management to online channels. With 2-way XML connections to the world's leading booking websites from one central cloud application, InnConnect ensures properties of all sizes can maximize their online exposure and reduce the time and cost it takes to update rooms.
With InnConnect no more logging into each extranet to manage your hotel's distribution, you only log in to your InnGenius PMS to send and receive data to all of your distribution network.
All your reservations will flow into your frontdesk screen, no more email traffic or faxes.
Your guests will be kept in the loop with automated emails.
Yield Management will track your slow days and increase your sales by adjusting room rates automatically.
InnConnect CRS  will make sure you are not missing out on direct bookings from your website visitors.
Increase your revenues by
maximizing your exposure in the largest marketplaces
Maintain rate parity through all sites
Cloud Based; no installation required
Reduce the risk of over-bookings
Manage all inventory from one single software
Eliminate the errors and labor costs of multiple-manual data entry
Fits any size property from B&B's hotel chains
Unlimited rooms and rates
Shared pool of inventory
Have the privilege of giving more availability to the best-selling channel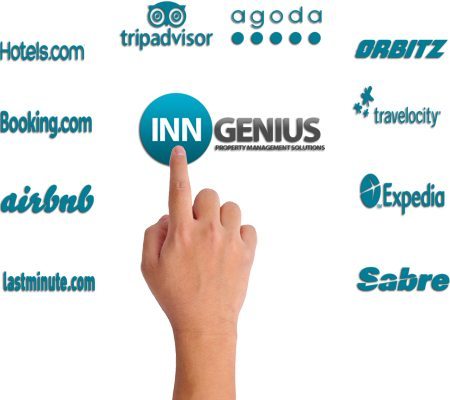 Streamline your distribution
Simultaneously update over 650 OTAs and GDS networks including rate, availability, allotments, packages, minimum night stay, cut offs, and more.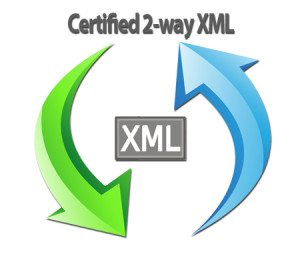 Real Time Two-way Communication
Real-time allotments management
Automatically update all channels when a booking is made on any site
Reflect real-time hotel room availability on channels and sell until the last room
Untangle your complicated distribution network
InnConnect CRS serves as an excellent communication conduit between your business and the distribution network. InnConnect gets all the information from InnGenius PMS and transmits it to hundreds of channels. When a room is sold, inventory is automatically reduced across all the channels so you never risk overbooking.
Below is a list of the Distribution Networks that InnConnect CRS Channel Manager currently connects.
Booking.com
Agoda.com
Priceline.com
TripAdvisor.com
Airbnb
InnLink
Expedia.com
Hotels.com
Hotwire.com
Venere.com
HotelBeds.com
9Flats
Kayak.com
Travelocity.com
Wimdu
VRBO
Trivago.com
Flipkey
Ctrip
Channels listed below are provided by our business partner myallocator.com . Connecting to these channels subject to additional fees.
Asia-Hotels.com
AsiaRooms
Atraveo
Atrapalo
BBPlanet
bedandbreakfast.eu
bedandbreakfast.com
BestDay
BestLondonHostels.com
Bud and Breakfast
BudgetPlaces
bug.co.uk
CityBreak
ClearTrip
Decolar
Despegar
Dorms.com
EasyBooking.com
EasyToBook
Ebab
EBookers.com
Egencia
eLong*
Europe Famous Hostels
Goibibo
Gomio
GTA*
HiHostel
HostelBookers.com
HostelClub
HostelCulture
Hostel Rocket
HostelTimes
HostelTraveler
HostelWorld
hostelz.com
Hotel.de
hotel.info
HotelAdvisor
HotelClub
HotelTravel
HouseTrip
HRS
InItalia
InstantWorldBooking
LateRooms
Liberate
Lodging.com
LonelyPlanet.com
MakeMyTrip
MalaPronta
MaxBooking.com
mybookings
NetAffnity
Open Travel Exchange
Ostrovok
Prestigia
Reconline
Roomorama*
Rooms2Night
SolarTours*
SurfHolidays
TOMAS
Tourico*
Travel Republic
TUI travel
Visit.com
YourSpainHostel